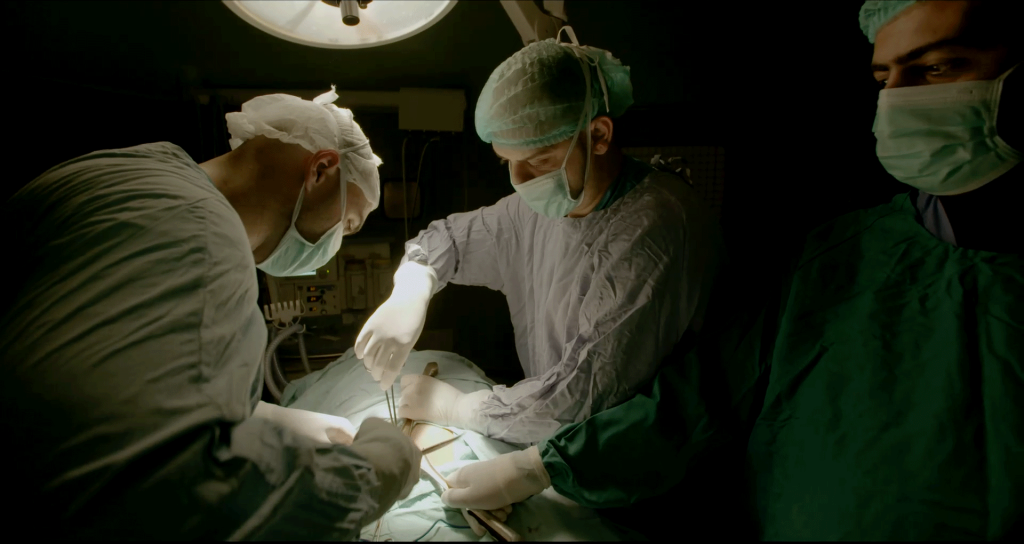 (October 2018), HD, 45 min.
"Gaza: Health under Siege" takes us into the streets and hospitals of Gaza. Here you will witness firsthand the daily realities affecting the management of human health-related systems under the blockade: access to clean water and hospital care as well as effective food and waste management. Filmed in Gaza City during January and February 2016, the audience will meet a variety of local Gazans from doctors, nurses, street vendors, water workers, waste pickers and children to learn what is life like behind Israel's massive wall surrounding Gaza.
Produced by: Wide Open Exposure, Byron A. Martin Productions
International Distributor: Java Films
Canadian Distributor: IndieCan 
Oaxaca International Film Festival 2018 - Special Mention Jury Prize
(May 2017), HD, 76 min.
"Tomorrow's Power" is a feature length documentary that showcases three communities around the world and their responses to economic and environmental emergencies they are facing. In the war-torn, oil-rich Arauca province in Colombia, communities have been building a peace process from the bottom up. In Germany activists are pushing the country to fully divest from fossil-fuel extraction and complete its transition to renewable energy. In Gaza health practitioners are harnessing solar power to battle daily life-threatening energy blackouts in hospitals.
Produced by: Wide Open Exposure, Byron A. Martin Productions
International Distributor: Off The Fence
Canadian Distributors: IndieCan (English Canada), MultiMonde (French Canada)
RIDM 2017
Ecozine 2017
CineEco 2017
Newport Beach 2017
Zagreb Green Film Festival 2017
Cordoba Film Festival 2017
Cambodia International Film Festival 2017
Sydney World Film Festival 2016
(October 2013) HD, 77 min. colour
"No Land, No Food, No Life" explores the calls for an end to the global land grabs, and for sustainable peasant and community agriculture.
Films De l'Oeil, CMF, Super Channel, Télé-Quebec, SODEC, PRIM, SCAM
Canadian Distributor: Cinéfête International Distributor: Journeyman Picture
Selected in over 40 festivals to date. Highlights include:
2015
FEBRUARY: FIFA De Mons, Belgium
FESPACO, Burkina Faso
Festival Tutti nello Stesso Piato, Italy
MARCH: One Earth Film Festival, USA
Festival du Film Vert, Switzerland
APRIL: Cologne International Women's Film, Germany
2014
FEBRUARY: uman Rights Human Wrongs Documentary Film Festival, Oslo, Norway
Festival International de Films D'environnement de Paris, Paris, France
APRIL: Festival International de Cine de Panama, Panama City, Panama
MAY: Crossroads Film Festival, Vienna, Austria
Festival International de Cine Ambiental, Buenos Aires, Argentina
OCTOBER: Festival Alimenterre, Belgium
OPENING GALA Festival des Libertés, Belgium
2013
OCTOBER: Vancouver International Film Festival, Vancouver, Canada
NOVEMBER: Rencontres internationales du documentaire de Montréal, Montreal, Canada
International Documentary Festival Amsterdam, Amsterdam, Netherlands
Films De L'Oeil, MIAOU, Super Channel, CMF
(Sep 2013) NO LAND Interactive is multiplatform project implemented as a complement to the documentary production NO LAND NO FOOD NO LIFE that is informative, entertaining and interactive across an original map showcasing land grabs happening around the world and a stylish destination web site.