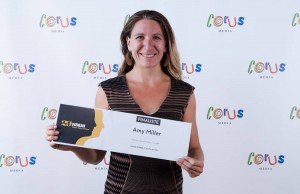 Amy Miller is an award winning media maker and social justice organizer based in Montréal. Her documentaries have been screened in over 100 festivals throughout the world, and have been broadcast in over a dozen countries. She remains dedicated to developing critical documentaries for transformative social change and helping out grassroots campaigns for justice.
AWARDS
- Prix du Vautour, THE CARBON RUSH, Festival FREDD, Toulouse, France, 2015
- Best feature film, THE CARBON RUSH, Barichara Environmental Film Festival, Colombia 2014
- Les Gémeaux Special Jury mention, NO LAND NO FOOD NO LIFE, FFPE, April 2014
- 2nd pl Social Justice Oxfam/IDFA Award, NO LAND NO FOOD NO LIFE, IDFA, Nov 2013
- Special mention, Best Political Film 2013, THE CARBON RUSH, Cinema Politica Network
- Best Original Screenplay for feature doc., THE CARBON RUSH, 17th Annual MEFEST, Aug 2013
- Nominated for 2013 Yorkton Gold Sheaf Emerging Filmmaker award.
- Bell Media Fellowship, Banff World Media Festival, June 2012
- ONF-NFB Filmmakers Assistance Program recipient, June 2011
- SCAM Writers award, Montreal October 2011
- ONF-NFB Emerging Producer Scholarship RIDM, Montreal, November 2010
- Astral Media Emerging Director Scholarship Hot Docs Toronto, May 2010
- Peoples Choice Award, 'Myths for Profit' Bay Street Film Festival, October 2009
- Peoples Choice Award, 'Outside of Europe' Migration Contest, CBC-RCI December 2008
PUBLICATIONS
BOOKS
"The Carbon Rush Book", 2014
Editor The Peoples Commission Manual on National (In) security September 5, 2008
Sex Tourism article in The Women's Movement Today: an Encyclopedia of Third-Wave Feminism, Leslie Heywood (Ed) (0ct 2005) Westport, CT: Greenwood Publishing.
PRINT
"Land Grabs Across Canada" October 2010, The Dominion Newspaper
"Dark Anniversary: Abousfian Abdelrazik languishes under UN watch list" May 2010, The Dominion Newspaper
Dominion Newspaper
RADIO
Amy has produced over 30 hours of radio stories for various programs around the world.
ACTIVITIES
2013-2015 Board member of PRIM- Independent producers, directors of Montreal
2009-present Member of Documentary Organization of Canada
2009-2011 Member of English Language Artist Network- Quebec
2009-2010 Member of editorial board 'The Dominion Media Co-op'
2008-2010 Member of Independent Media Centre-Montreal QC
2007-2010 Member of Main Film, Montreal QC